Connecting Knowledge and Impact Across Disciplines and Sectors
Micronutrients are diverse and have complex interactions on health. As technical micronutrient knowledge continues to evolve, the micronutrient field has acknowledged that biological issues represent only part of what drives outcomes, and even those need to be better understood. To increase impact on vulnerable populations, the field must empower researchers, policymakers, and practitioners who work on food systems, agriculture, economics, education, and health across both the public and private sectors to prioritizes and address micronutrient malnutrition.
The Micronutrient Forum's strategy is predicated on the fact that stakeholders in the nutrition field need a sound micronutrient technical resource, and that conversely scientific research should be informed by the needs of stakeholders such as policymakers, implementers, and funders and investors. However, knowledge without action is insufficient. The Forum also identifies knowledge gaps, prioritizes, and coordinates and collaborates with others to fill those gaps, and effectively disseminate this new knowledge.
The Forum aims to increase the effectiveness of the entire field and ultimately improve the lives of populations vulnerable to micronutrient deficiencies.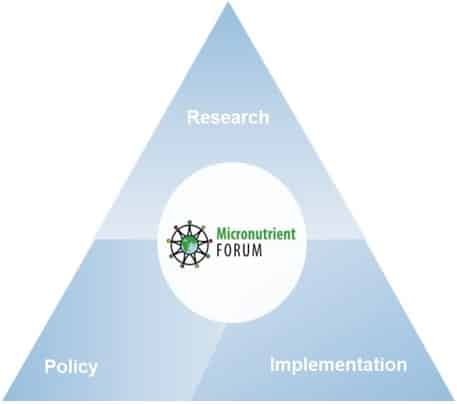 The Micronutrient Forum does not conduct research, policy, or implementation. Instead, the Forum works at the intersection of all three, filling knowledge gaps and improving collaboration.
Vision
Mission
Strategy Statement
Vision
The Micronutrient Forum envisions a world where all people have optimal micronutrient status for health and well-being.
Mission
Strategy Statement
Strategic Objectives and Themes