October 16-20, 2023
A Hybrid Event | Virtual & In Person - The Hague | Netherlands
The Micronutrient Forum's 6th Global Conference (#MNF2023) will take place online and in person at the World Forum in The Hague, Netherlands, 16-20 October 2023 with a thematic focus on Nutrition for Resilience (N4R).
The world is being confronted by multiple, complex, cascading challenges and shocks that impact on human well-being, including nutrition and micronutrient security. The ongoing global food crisis and the COVID pandemic and its disruptions to global health food systems highlighted the deep vulnerabilities faced by populations world-wide, as well as the disproportionate burden they have on women. As climate-change and man-made conflicts exacerbate food security and nutrition challenges, optimizing the health and resilience of populations in the face of current and future shocks is critical as we strive to protect and nourish future generations.
Achieving the 2030 Agenda on Sustainable Development in an era of crisis upon crises depends on our ability to strengthen the resilience of individuals and populations – as well as the systems on which they depend.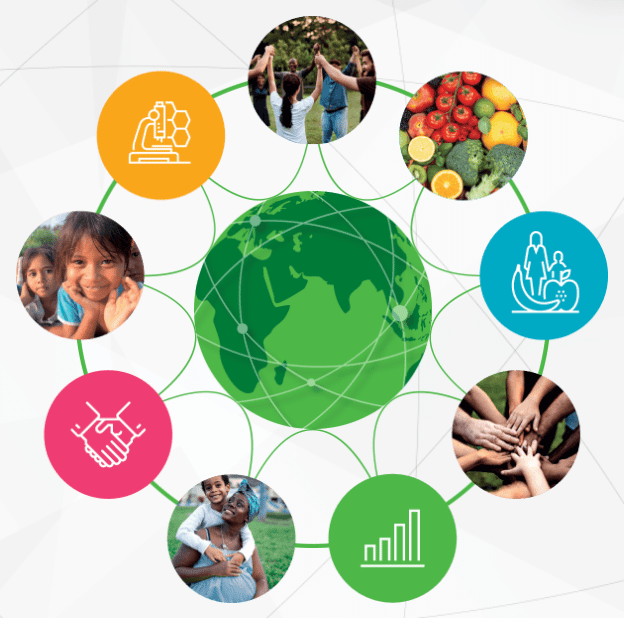 A more complete understanding and sectoral examination of the key nutritional drivers for resilience is necessary, for example, to support immunity against emerging waves of infectious diseases, develop more comprehensive shock-responsive systems in fragile settings, and scale-up impactful population-based prevention programs across both crisis and non-crisis contexts.
Despite the overwhelming evidence of optimal nutrition and, specifically, optimal micronutrient status in improving overall health, immunity, and productivity, nutrition is generally viewed as an outcome of more resilient populations and neglected in research and development agendas as integral in pathways that strengthen population resilience.
By bringing together diverse stakeholders across sectors and disciplines, the Forum's 6th Global Conference will help shape and establish a compelling and evidence-based agenda on the interdependence of nutrition and resilience – offering opportunities to advance integrated research, new policy priorities and investments for micronutrient interventions, and to accelerate progress towards global nutrition and development goals.
Explore Important Topics Related to Nutrition for Resilience
Insights and reflections by Mduduzi Mbuya (Director of Knowledge Leadership, Global Alliance for Improved Nutrition, GAIN USA) ; and Deanna Olney (Director, Nutrition, Diets, and Health,
This post is an introduction to the Exclusive #N4R Previews blog series. In today's world, where cascading hunger and malnutrition crises are impacting vulnerable communities, the
Insights and Reflections by Dr. Erick Boy, Chief Nutritionist at HarvestPlus and Micronutrient Forum's Conference Program Committee, Track 2 Co-Chair. This post is part of the
Dear Colleagues and Partners,The Micronutrient Forum is pleased to invite you to our 6th Global Conference, themed Nutrition for Resilience "N4R" – Ensuring Micronutrient Security in an Era of Complex Global Challenges.Following the success of
Coming in 2023 Forum's  6th Global Conference – Nutrition for Resilience (N4R) The role of adequate nutritional status is neglected in research and development agendas as integral in