Hill Briefing: The Rising COVID-19 Malnutrition Crisis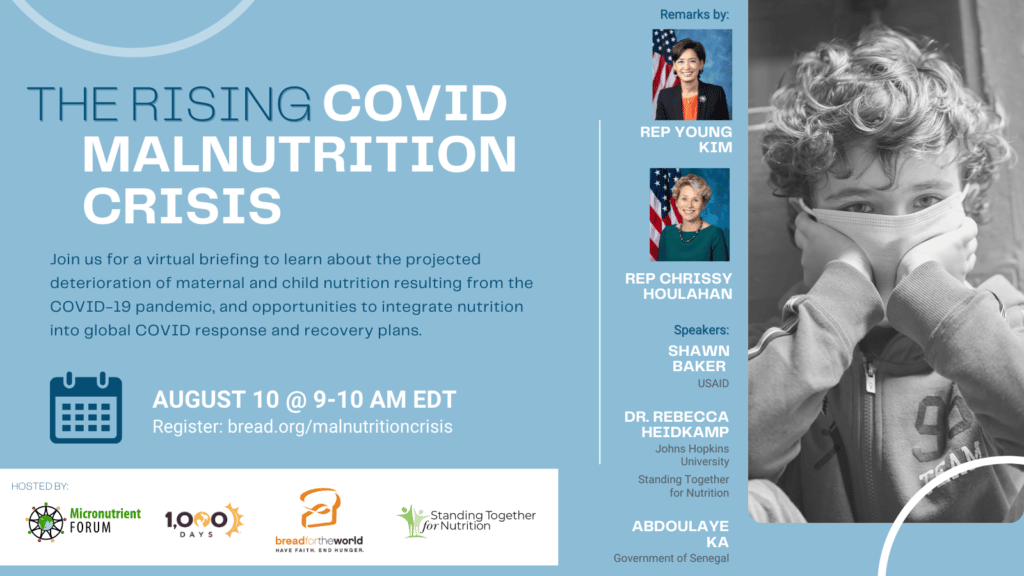 Bread for the World, Standing Together for Nutrition (ST4N) and 1,000 Days are organizing a briefing for the US Congress on 10 August at 9 am ET to build awareness on the projected deterioration of maternal and child nutrition resulting from the COVID-19 pandemic and the need for greater investment in nutrition, particularly within global COVID-19 response and recovery plans.
Speakers Include
Dr. Rebecca Heidkamp, John Hopkins University & ST4N Consortium
Abdoulaye Ka, Govt of Senegal, SUN focal point
Shawn Baker, USAID
Event overview:
US leadership and support for global recovery efforts from the COVID-19 pandemic is increasingly urgent in light of a looming malnutrition crisis that threatens the futures of an entire generation of children. Modelling done by the Standing Together for Nutrition Consortium (ST4N) – a collective group of nutrition, economic, food, and health system experts – shows that, by 2022, there will be an estimated additional 13.6 million wasted (severely malnourished) children, additional 3.6 million stunted children, and 283,000 additional deaths of children, with the most severe consequences for young children and their mothers. Economic losses attributed to childhood stunting and mortality translate to future productivity earnings of 44 billion USD.
Without additional foreign assistance and domestic funding directed towards nutrition, and better use of existing nutrition funding, there will be long-term negative consequences on human capital and economic growth. U.S. global leadership on nutrition has neverbeen more critical: scaled-up investment in global nutrition and effective inclusion of nutrition in global COVID-19 response programs will help protect the hard-fought improvements on nutrition over the past decade. Governments and donors must act to make the nutrition of women and children a priority.
Objectives:
This 1-hour webinar will:
1. Build awareness in Congress on the projected deterioration of maternal and child nutrition resulting from the COVID-19 pandemic, and on the need for more investment
2. Educate Congress on opportunities to integrate nutrition into global COVID response and recovery plans, including through USAID, IDA20, and Zero Hunger compacts/pooled funds
Watch video recording of this event