The Global Nutrition Report (GNR), the world's leading independent assessment of the state of global nutrition, has selected the Micronutrient Forum's Executive Director Saskia Osendarp as a member of the Extended Independent Expert Group (IEG). Here at the Micronutrient Forum, we are proud to support Saskia and know she will bring valuable insight and tremendous experience to the group. 
The IEG is led by the current Chair, Dr Renata Micha, Associate Professor in Human Nutrition at the University of Thessaly, Greece, who is the ultimate decision-maker on all matters related to the GNR and the IEG. Through an open recruitment process, IEG members are appointed as individuals recognized for their expertise and independent of their institutions to fulfill the Independent Expert Group's role. They bring diverse and synergistic skills, expertise and portfolios contributing to the group's strength. 
It's an honor to be a member of Global Nutrition Report's Independent Expert Group and amongst this impressive company. I commend the achievements made by the GNR in the fight to end malnutrition and I hope to spotlight the importance of data, especially micronutrient data, to fill the data gap and address the nutritional needs of populations. 
Today, the GNR announces it will create the world's first independent accountability framework for nutrition – the nutrition accountability framework (NAF) – to support stronger nutrition action and accelerated progress to make tackling poor diets and all forms of malnutrition a winnable fight across geographies and sectors.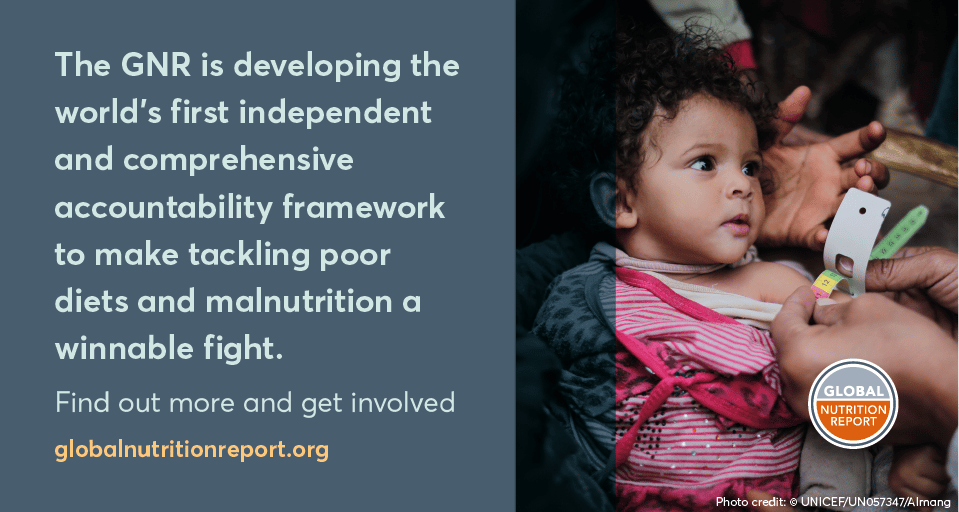 The Global Nutrition Report's nutrition accountability framework will fill a critical gap, making it easier for people to:
report on actions taken
identify gaps in action
determine the most impactful actions
allocate resources where they are most needed
Find out more about NAF here.