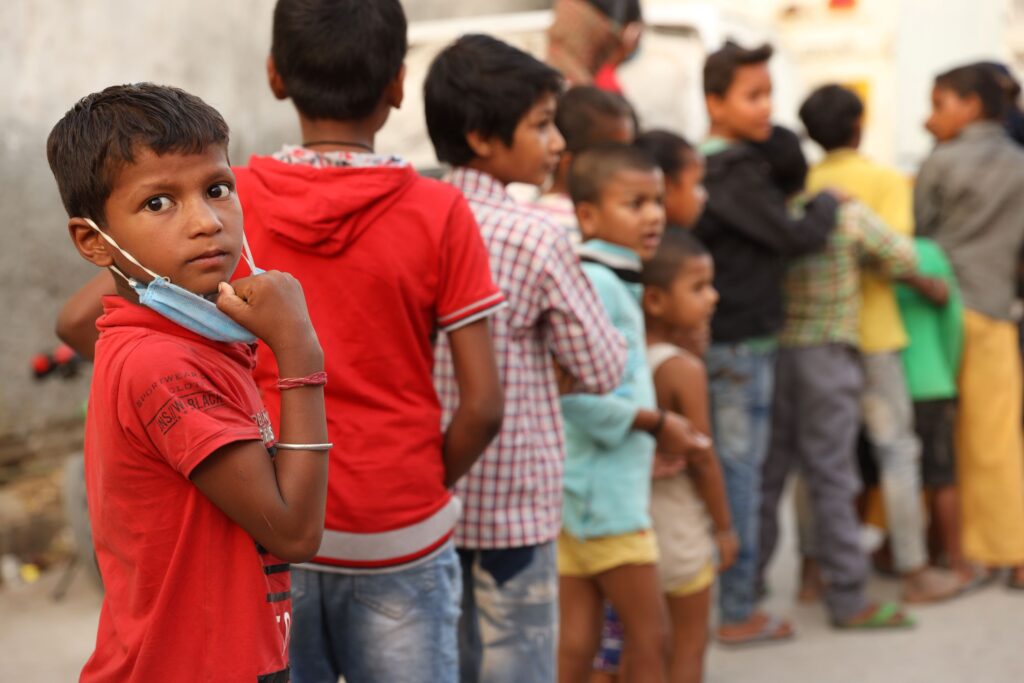 By Dr. Shweta Khandelwal, Professor at Public Health Foundation of India (PHFI), Dr. Cecilia Fabrizio, ST4N Program Lead, and Bregje van Asperen, ST4N Research Associate
India experienced three waves of the COVID-19 pandemic with devastating impacts to lives and livelihoods and unprecedented disruptions to schools, health services and food systems that reduced or limited access to healthy foods and, collectively, placed millions at higher risk for poor health and nutrition outcomes. However, even as the most vulnerable were disproportionately affected, an examination of existing data indicates that the government's efforts had protected the nutrition status of the most vulnerable women and child population groups — helping to ensure their nutrition resilience in the face of a protracted shock.
COVID lockdowns had a crippling impact on interrelated systems that impact nutrition
The Indian government, on 24 March 2020, imposed one of the longest and strictest countrywide lockdowns around the globe. India, the second most populous country with a large burden of malnutrition even prior to COVID, experienced shocks to its economic, food, health and school systems that impacted nutrition.
The sudden halt in economic activity because of the pandemic led to widespread job loss and triggered an exodus of migrants from urban centers to their native villages. An estimated 10.4 million workers returned home from their places of work. The urban unemployment rate jumped from 8.8% in Apr-Jun 2019 to a staggering 20.8% in Apr-Jun 2020, individual income fell by 40% and the bottom decile of households lost three months' worth of income. The urban poor were hit the hardest.
Job and income losses drove food insecurity, particularly for women
Due to the economic shock, nearly 80% of households in a 12-state survey reported a reduction in food intake. Mothers surveyed in Uttar Pradesh reported a four-fold increase in food insecurity from 21% (Dec 2019) to 80% (Aug 2020). This number is likely even higher considering only women with children under two years old were interviewed.
Women are more likely to work in the informal sector, without worker protections, and are adversely affected by gender norms and laws that restrict their access to resources that could cushion economic shocks. As a result, women farmers were significantly more likely than men to report a stronger reduction in dietary diversity, including reductions in consumption of vegetables, fruit, and dairy products. One study showed that among those surveyed, 16% of women farmers reported reducing their food intake and 30% reported buying cheaper foods, compared to 5% and 6% of men, respectively.
School closures had knock-on negative effects for girls
In India, schools serving 247 million children closed for over a year. When children lose access to school meals, they lose their most reliable source of daily nutrition, and the entire household has reduced access to food. Gendered expectations may force girls to disproportionately bear the brunt of household food insecurity. The longer schools are closed, the more likely that girls will not return, with increased risk of child marriage and adolescent pregnancies, impacting their own and their children's health and human capital potential.
Government efforts supported nutrition resilience
The Indian government responded rapidly and innovatively, particularly with health, social protection and school feeding. Nearly 70,000 babies are born daily in India, with an estimated 7 million born during the first three months of lockdown. During lockdowns particularly pregnant women and children under two faced considerable difficulties in accessing health services as their movements were restricted and transportation was not available or affordable. The government prioritized health and nutrition systems: facilities were re-opened, and many offered free transportation, as part of social protection. As a result, although there was a sharp decline in overall use of health facilities, surveys show that reproductive, maternal, newborn, and child health (RMNCH) services experienced smaller dips in facility usage and a faster recovery to pre-COVID levels of services (Figure 1). Importantly, key determinants of infant nutrition, such as rates of breastfeeding within 24hr of birth, did not fall significantly during the lockdown. Besides the RMNCH services, there was an improvement in all facilities during lockdown compared to pre-lockdown, mainly attributable to the provision of free transport provided by health facilities by the Janani Shishu Suraksha Karyakaram (JSSK) social protection scheme.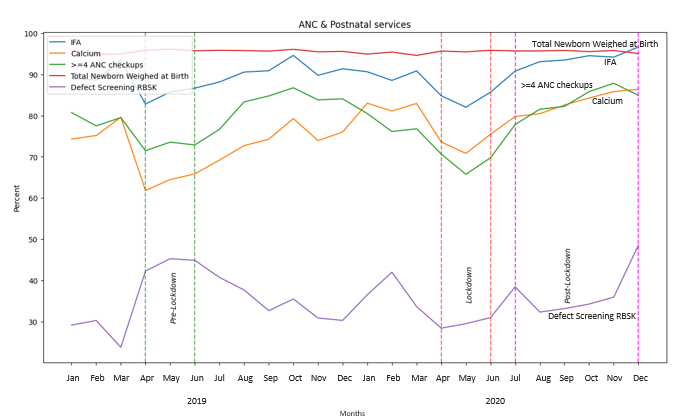 Social protection programs, already focused on the most vulnerable, were expanded and modified to meet the needs of this crisis. India's Integrated Child Development Services (ICDS) scheme and the Targeted Public Distribution System (TPDS) are the world's largest community-based programs serving pregnant and nursing mothers and children under six years and the most vulnerable/poorest households, respectively. Adaptations and innovations included broadening the target groups, providing cash transfers, increasing ration amounts, easing eligibility rules, and providing income support and rations in advance.
The World Bank reports that the Indian government managed to provide at least some food or cash support to a remarkable 85% of rural households and 69% of urban households, although implementation varied by geography. Additionally, a survey of rural Indian households receiving cash transfer support showed that the program mitigated food insecurity, with reported reductions in moderate food insecurity of 2.4% – 2.9% and severe food insecurity by about 0.92% xii. These reports demonstrated that India's policies helped to cushion the harsh economic and nutritional impact of the pandemic by targeting the most vulnerable households.
In this era of "crises on crises", as food inflation, climate events, economic shocks and conflict, continue to impede efforts to meet the Sustainable Development Targets for nutrition, India's policies offer contextually relevant insights into nutrition resilience.
Key research on the resilience of health services was conducted by Shweta Khandelwal 1, Dimple Kondal2 and Savitesh Kushwaha3, supported by the Standing Together for Nutrition Consortium.

1. Public Health Foundation of India (PHFI), Gurugram, India; 2. Centre for Chronic Disease Control (CCDC), Delhi, India; 3. The Postgraduate Institute of Medical Education and Research (PGIMER), Chandigarh